Daydream
"DREAM SERIES"
2022

The DREAM SERIES is inspired by surreal moments from my daily life, with one of the collections, "Daydream," being based on my daydreams. These daydreams collapse the boundaries between reality and imagination. While I am in the real world, I sometimes imagine and create my own world in my head, blurring the lines between the two.
---
DREAM SERIES Inspiration

The DREAM SERIES is inspired by my personal surreal moments. In researching the history of surrealism and studying the works of surrealist artists, I came across French writer Andre Breton, a principal theorist of surrealism. I was particularly struck by a statement he made about "collapsing all boundaries between the real and the imagined". This idea resonated with me and became the basis for my collection "Daydream," which embodies this concept.
Mood Board
By examining surrealist art, it is clear that while they are rooted in reality, certain elements create a surreal effect. For my mood board, I wanted to create a dreamy, surreal image. I used the paintings of surrealist artist Evgeni Gordiets, as well as elements from AI-generated images that I obtained by inputting the Andre Breton's sentence, "the act of collapsing the boundaries between the real and the imagined."
Illustration



The Daydream collection features bright and dreamy colors, inspired by the mood board. I applied slight deconstruction to the details of the collection to reflect the way that daydreams deconstruct reality.
My goal was to design an ready-to-wear collection, but with unique elements, as my daydreams happen on a daily basis but make my world distinctive. To add a unique touch to basic garments such as mini dresses, denims, and shirts, I incorporated unbalanced, cut-out, and hole details.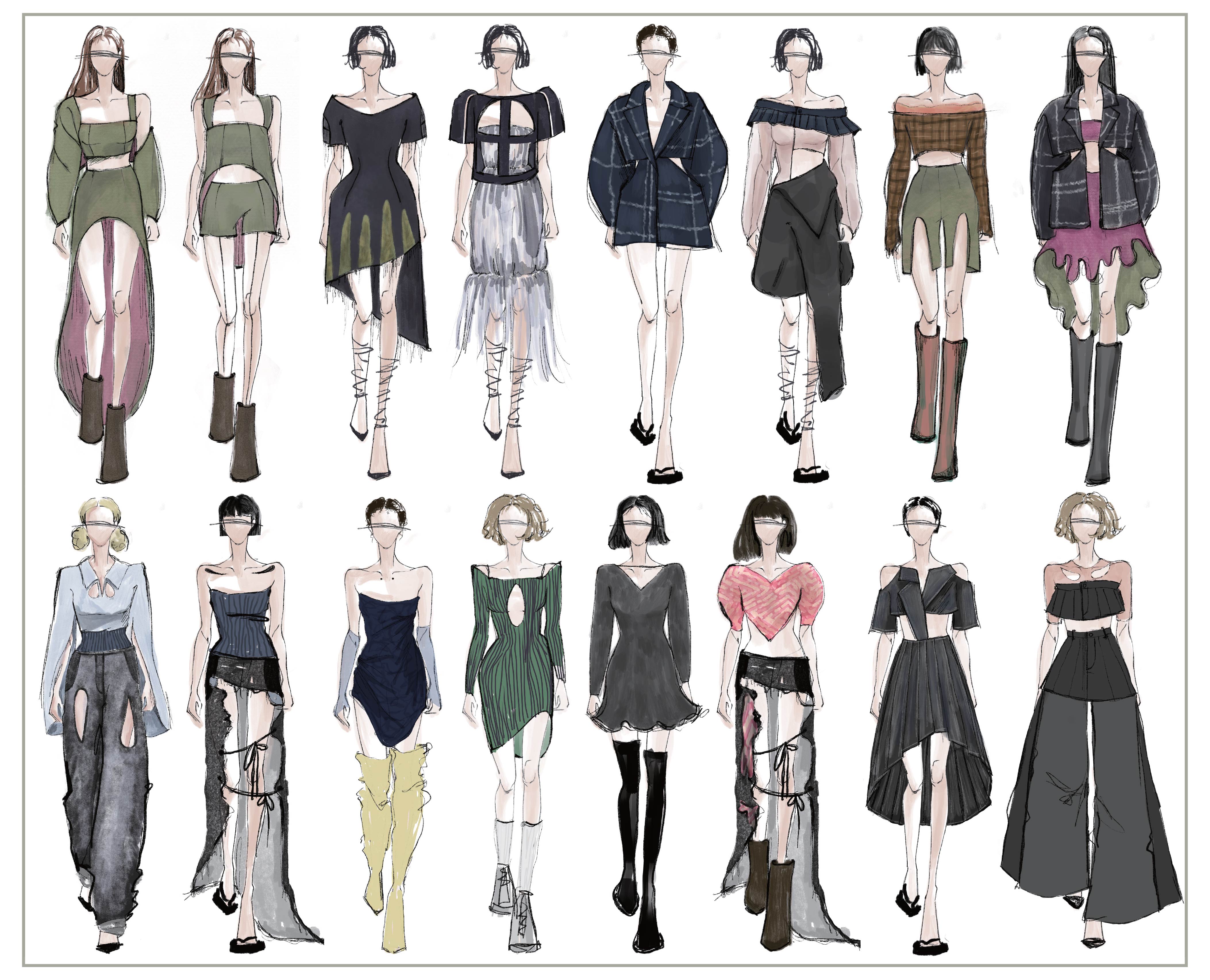 Shape and Form
For the piece I created, I attempted to collapse the category of clothing by merging elements from different garments. It can be considered as a cardigan, but one of the armholes are incomplete and the strap of a tank top is attached to the back side of the cardigan. Thus, it cannot be defined as a specific category, much like how my daydream exists in the middle of reality and imagination.